MIT-Enterprise-Forum-Concept-Clinic-Puts-My-Startup-On-The-Spot
Touted was the featured company at the MIT Enterprise Forum Concept Clinic on Thursday. It was such a valuable experience. I presented an overview to about 25 people, including 3 panelists, in a session moderated by Lora Kratchounova of Scratch Media+Marketing.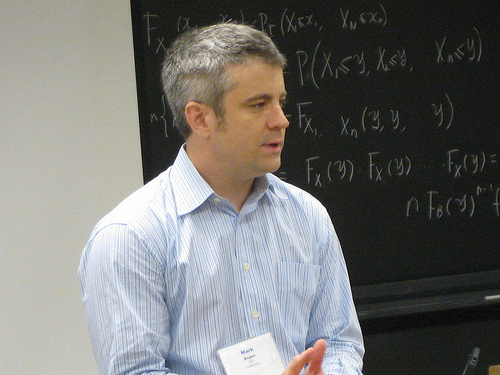 Delivering a rigorous mathematical proof of why Touted is a good idea
Lora was incredibly helpful before and during the presentation in making sure we got the most out of it. She provided some great ideas during the session - essentially a 4th panelist - including leading us in a discussion on business models dealing with perishable inventory like tickets and hotel rooms that was particularly valuable.
Panelists
Alexis Kopekis of Propel Consulting - Alexis has great energy and provided a lot of insight on product features with a strong hook to get people excited as well as clever go-to-market strategies to build up awareness.
Larry Begley of .406 Ventures - Larry had good insights on crowdsourcing and pushed us to think about business model and competitive aspects. His perspective as a VC made a big contribution because he has a broad view of the landscape, citing trends in the investor community and the kinds of things he's seeing too much or not enough of in the startup community.
Mike Troiano of Holland-Mark Digital - Anything having to do with social, marketing, or mobile Mike covers as well as anyone, and he seems to have great instincts on just about about everything else. My friend Russ Richmond, an advisor to the company and kind enough to try to record the conversation, said "I had a hard time capturing everything, especially when every time Mike opened his mouth, 4 or 5 great ideas would come out."
A special thanks to Brad Rosen of Drync, who brought great advice on entrepreneurship and the intersection of mobile technology and local business.
Takeaways
1. The MIT Enterprise Forum Concept Clinic program organized by Lora and Forum Executive Director Trish Fleming is an amazing program. I strongly recommend it to any early stage startup. It's hard to imagine anything more valuable at the concept stage than a roomful of really smart people spending three hours of their time helping you develop your business.
2. There was a strong support for the idea that people would be willing to provide information on events with good incentives built into the experience. Also good discussion on what might appeal to this person and how they might interact with the business.
3. A layer of abstraction on top of raw tweets is important. People don't want to sift through lots of individual messages. Popular links shared is the most proven way (witness Tweetmeme) of doing this.
4. Mobile is very, very, very important. There are strong arguments for leading with a mobile app instead of web. An great example of mobile success in local business realm is Foursquare.
5. Emphasize the importance of doing real-time search on things for which people most need real-time information. Events does fit this criteria well.
6. There is an interesting trade-off between expert opinions and wisdom of the crowd. Which is the user looking for in a particular situation?
7. The notion of endorsement culture, originally suggested by Bobbie Carlton and supported by Mike Troiano's point that endorsement can come in many forms, is very important to keep in mind moving forward.
Thanks very much to everyone there for bring so much energy and creativity to this!
blog comments powered by